Emotion (stylized as E•MO•TION) is Carly Rae Jepsen's third album. It was released in North America on August 21, 2015.
Interview
In an interview with Idolator, Carly confirmed that she had been recording a third studio album.[1] She shared that the record incorporates pop and folk, and channels Robyn, La Roux, Kimbra and Dragonette as influences for the studio sessions. It was confirmed that she was still working with her past producers, Josh Ramsay, Ryan Stewart and Max Martin while meeting new producers Benny Blanco and StarGate.
Development
In March, Jepsen began writing and recording sessions in preparation of her follow-up record to Kiss. She has been back into Studio at Barcelona, Spain, and has written a new song with producer BHarv and co-writer Tavish Crowe.
For the album over 250 were composed, but Carly was able to narrow it down to 17 for the final track list.
As mentioned before, the album was released on August 21, 2015.
On August 26, 2016, Carly released a companion EP, Emotion: Side B. It features eight tracks, all of which were not included in the final release of Emotion.
Track List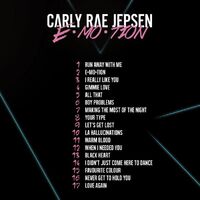 1. Run Away with Me
2. E•MO•TION
3. I Really Like You
4. Gimmie Love
5. All That
6. Boy Problems
7. Making the Most of the Night
8. Your Type
9. Let's Get Lost
10. LA Hallucinations
11. Warm Blood
12. When I Needed You
Deluxe Edition bonus tracks
13. Black Heart
14. I Didn't Just Come Here to Dance
15. Favourite Colour
Japanese Bonus Tracks
16. Never Get to Hold You
17. Love Again
18. I Really Like You (Liam King Remix)
References
Community content is available under
CC-BY-SA
unless otherwise noted.