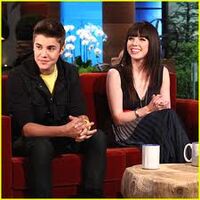 Justin Drew Bieber (born March 1, 1994, in London, ON) is one of Carly Rae Jepsen's associated acts. Carly and Justin had sung a duet together, titled "Beautiful", which is on Carly's album, Kiss. Justin also executive produced Kiss.
Carly is the opening act for the North American legs of Justin's Believe Tour.
When Carly won the New Artist of the Year award in the AMAs, Carly thanked Justin in her speech, as seen here.
Carly on Justin
Interviewer: What do you think of Justin and crew's cover video of Call Me Maybe, and how many times have you watched it?
Carly: I don't know how many times I've seen it, but I do remember the first time I saw it and being totally floored. It really was a total shock to me, especially since it came out just a day or two after we had officially signed so I had yet to meet Justin. I found out from someone posting it on Facebook.
Interviewer: Have you met Justin?
Carly: I hadn't met him until after I signed. I was like, "I've committed to this, I hope I like him in person." Going to LA in itself was really intimidating because I've never really been there, but meeting him was really cool. He totally exceeded my expectations, especially as the musician that he is. As a writer myself, I was really impressed. His new stuff is really rad. He played a few of his new songs for me, then asked if I'd sing on one of them. So we recorded it. To my shock and amazement, it turned out really well. It reminds me of those songs that I would listen to before bed and play on repeat.
Interviewer: What's your favorite song by the Biebs?
Carly: There are so many that I love, but my absolute favorite is his new one, "Boyfriend." It's so good. After listening to it, my friend and I were like, "That is one of the best songs ever!"
External links
Community content is available under
CC-BY-SA
unless otherwise noted.